We do not recommend any of the commerical businesses shown on the top of our web site.
These banner ads have been added by our free web space provider Tripod Lycos.
---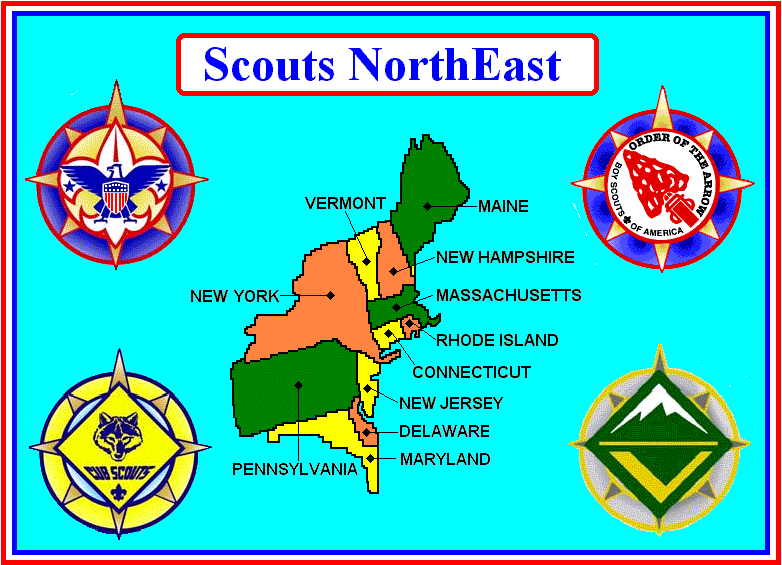 Welcome to Scouts NorthEast (SNEBSA)

We are in the process of dramatically increasing the size of what has been known for years as Scouts NewEngland. We will be covering 21 states on the East Coast from Maine to Florida. To do this we are building two web sites, and splitting the states into Scouts NorthEast (SNEBSA) and Scouts SouthEast (SSEBSA). We hope you come back and visit us again and watch us as we grow.
Thank you for your patience with us and please come again.
Please use our Guest Book if you would like to contact our webmaster ScoutKing.
---
---
Our Web Site Index
Click on any UNDERLINED HEADING to view it.
North Eastern BSA Council, Camp and O.A. Lodge Listings
View information on what communities each Council serves, find any Council Service Center address, their phone number and FAX number, find out what they have for Campgrounds and Summer Camps, and about their Order of the Arrow (OA) Lodges. All these listings are broken down by individual state. So click on any state below to be taken there.
Scout & Scouter Resources
Links to Scouts NewEngland Web Pages
---
Please, sign our Guest Book during your visit, Thank You.
Click HERE to join our FREE International Scout Leader E-mail List Group.
We have over a thousand members in 51 Countries and 48 US States.
---
We'd like to thank Tripod for providing us with our Web Site Space.
To find out how you can get a FREE Web Site, click: HERE
---
Back to the Top of this page.
Back to the Home Page of Scouts NorthEast.
Please Sign our Guest Book or use it to Contact the Webmaster.
Join our FREE International Scout Leader E-mail List Group.
---
Last Revised 03-29-06
Copyright 1997-2006 - ScoutKing - All Rights Reserved
---
This is an Unofficial Boy Scouts of America Web Site. The information provided by us does not necessarily reflect the policies and or opinions of Boy Scouts of America, Inc. (BSA). This Web Site is a resource that is intended to help Scouts and Scouters learn about Scouting in the North East Region and to help enhance your Scouting enjoyment. It is up to you, the user, how you use it. We can not be held responsible for any loss or injury that may be incurred by you as a result of using the provided information. Remember, if you have questions, always check with your local BSA Council first for answers.
---